Cointiply
Cointiply is a micro earnings website for Bitcoin. There are several methods you can utilize on this site to earn Bitcoin for free. Here I will show you three preferred methods for earning these satoshis and how to sign up
Sign up
All you will need to sign up for Cointiply is an email address. You can withdraw your Bitcoin to any Bitcoin wallet address that you want. Signup for Cointiply is quick and easy, click on the banner below, and finish the signup process to get started.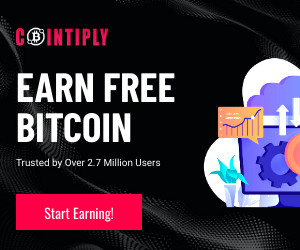 Method 1: The Faucet
The most straightforward way to start earning on Cointiply is by using the faucet. You can claim every hour by clicking the roll button. Rolling the faucet will randomize your earnings so you can receive anywhere from 22 to 331 coins. Coins translate to roughly an equivalent amount of satoshi. You will also get incremental loyalty bonuses for each day that you use Cointiply. The faucet is probably my most utilized method for earning free Bitcoin.
Method 2: The Games Page
This next method can pay out much more often than the faucet, and you can also get some enjoyment out of it. If you enjoy playing online JavaScript or Flash Games back in the day, you can play from a select number of classic arcade-style games that Cointiply offers. The ads are not at all intrusive, and as you play these games with ads on the side of the page, you will be rewarded around 30 satoshis every 10 minutes!
Method 3: The Offer Wall
I have not personally used this third method, but if you can complete the offers here, this is where you can get a bulk of your earnings. By downloading apps, signing up for websites, and completing surveys, you can get paid tens of thousands of satoshi for every offer you complete! These take more time than the faucet and games, but if you have the time, they are definitely worth the effort required to complete the offers.
Bonus Method: Promotions
Promotional codes can be found on the Cointiply Twitter page and redeemed in your Cointiply account. This method is a quick and easy way to rack up coins if you turn on notifications for when they send out tweets.
Next: Our Litecoin Faucet!
Previous: How We Predict Block Reward Halvings
>> Home